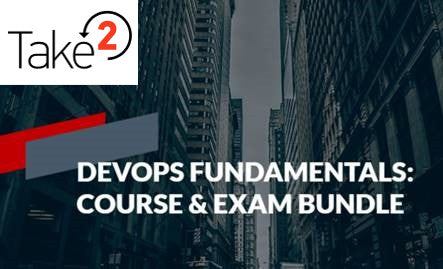 Description
Become DevOps Fundamentals
Certified For Only
$345 USD
!
Description
The Thought Rock DevOps Fundamentals Bundle is the complete package and includes everything you need to become DevOps Fundamental certified. The bundle price is $345 USD and there are no additional fees we charge on top of this. With a world-class and dynamic online course, certified online exam, information-packed study notes, and an official practice exam, this is the best DevOps Fundamentals package available. The DevOps Fundamentals Bundle Includes:
DevOps Fundamentals Online Course

The DevOps accredited online course is built with 7 sections and includes all the education you need to be certified in DevOps Fundamental. (5-month access).
DevOps Fundamentals Online Exam
You will receive a certified DevOps Fundamentals Online Exam voucher code to redeem with PEOPLECERT. This exam is taken online from the comfort of your home or office. A webcam is required to take this exam. (5-month access).
DevOps Fundamentals Study Notes

A robust and information-packed package that makes the perfect study aid match for the online course. (5-month access).
DevOps Fundamentals Practice Exams
One official DevOps practice exam and one unofficial mock exam are included. This is the perfect way to prep for the exam. Organizations around the world have partnered with Thought Rock for their IT related certification needs. (5-month access).
Membership to Thoughtrock.com
Have access to our library filled with on-demand Industry webcasts, PowerPoint presentations, and templates.
Important Information
You will receive your course login & exam voucher details when the course goes live.


Please note that a web-cam is required to take the exam

This bundle expires 5 months from the date of purchase. You must complete your course and take your exam before the expiry date.

Taxes will be charged on all Canadian purchases

Your bundle purchase is non-refundable and non-transferable. No exceptions. Thank you in advance for your understanding.
Need To Purchase More Than One Bundle?
Option 1. Change the number of bundles during the checkout process. After receiving confirmation of your payment our team will reach out to you to gather the names of your team members.
Option 2.
 Contact our corporate sales team at 
info@thoughtrock.com
 to discuss volume options for larger teams.